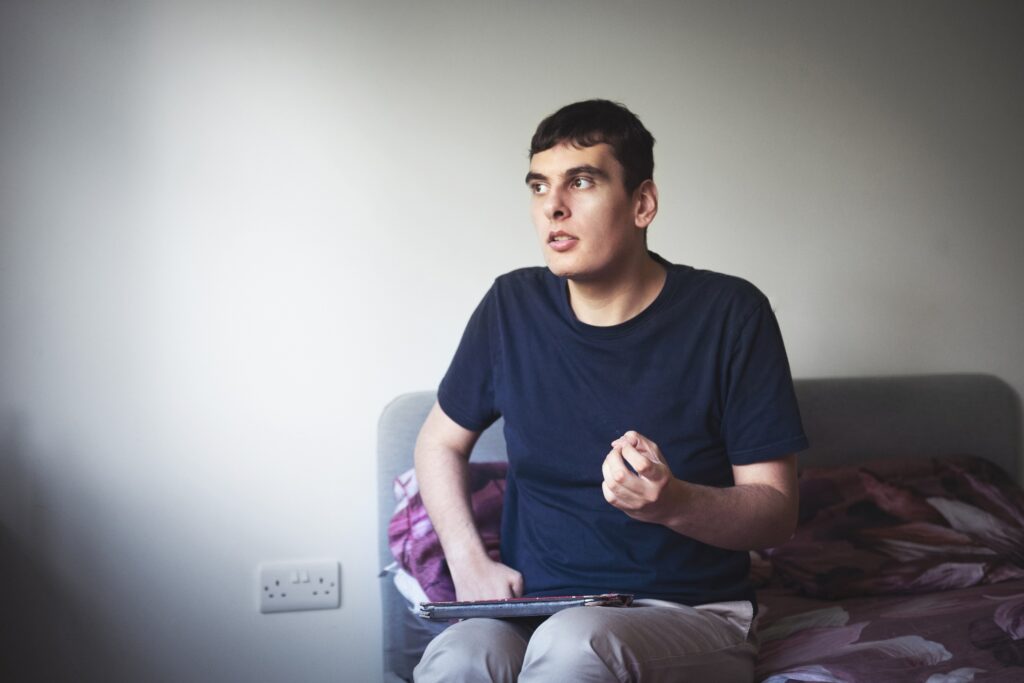 Norwood supports children and families facing challenges, and adults with learning disabilities and autism. Our Jewish ethos is at the heart of what we do, as is our mission to ensure that the people we support lead their best possible lives. People like Joe, who moved into a Norwood home three years ago, having been supported by the charity since he was a child.
Joe had experienced isolation because his complex needs and challenging behaviours were hard for some people to understand. Joe felt frustrated and so would sit in a corner of his room and rock. After moving into his Norwood home, Joe's world opened up in ways he previously thought were impossible. Now he's got new-found confidence and enjoys singing and painting. As his mother Diana says: "Previously, we were scared what Joe's future would bring. We never could have dreamt of the massive change in Joe. He even had his art displayed at the Royal Academy. That simply wouldn't have been possible without Norwood."
Norwood understands just how important it is to our residents to be part of their local community, joining together to celebrate Jewish festivals and community events. These add meaning and value to their lives and enrich the communities they belong to.
Not all of the people we support are able to assume their place within the wider community, so it's vital that familiar faces from local schools, synagogues and community groups come into our homes to lead singing, games and craft activities, or just to chat. They bring additional meaning, life and laughter to our residents.
Our staff know that regular community interactions support residents' care and wellbeing. For people with learning disabilities and autism, the rhythm and routine of the Jewish year helps lessen challenging behaviours. For those with dementia, it can trigger long-standing personal memories.
Thank you to all the volunteers, community members, staff and families who help the children, families and residents we support to integrate into their local communities. It helps us ensure that the people we support live their most meaningful and fulfilling lives.
If you would like to build a meaningful connection with a Norwood home near you, please contact volunteering@norwood.org.uk to find out how.